Posted: February 10, 2012
Filed under:
Uncategorized
| Tags: alex chiu, champoy hate, comics, comix, daryl gussin, flockshop, home room, permanent records, punk, razorcake, zines
Leave a comment
What a week! We made buttons, we bought TONS of zines, we saw some great live music, and we had our picture taken with a giant zine.  We hope you found some great new places to hang out or a new favorite zine!
This Saturday's events promise to be a great way to end a week chockfull of great things to do and fun places to do them. This Saturday brings events from Alex Chiu, Champoy Hate, AND Daryl Gussin. We don't know about you, but we are dead set on going to all three. It can be done!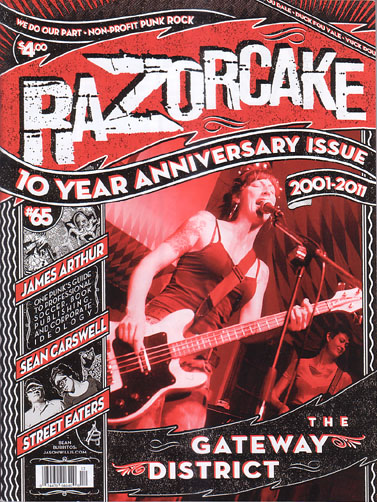 ---
Posted: February 9, 2012
Filed under:
Uncategorized
| Tags: art walk, daryl gussin, DBA pour over bar, downtown artwalk, eagle rock center for the arts, free, last bookstore, razorcake, rebecca inducil, zines
Leave a comment
We're very excited that The Last Bookstore is going to start carrying zines.  In fact, we are so excited, we are rolling out the welcome wagon! Join the LAZF organizers in welcoming the zine section to the store Thursday, Feb. 9 during ArtWalk! This means that besides the LAZF, there will be coffee from the new DBA Pour Over Bar in the store and all the regular ArtWalk madness, like food trucks and free wine and cheese somewhere.
The L.A. Zine Fest organizers will be passing out flyers and postcards, and may have candy!
If ArtWalks aren't your thing, consider dropping by the Eagle Rock Center for the Arts, where Daryl Gussin and Rebecca Inducil are teaching you how to make a zine for FREE! This workshop will take you through not only the mechanics of assembly but also help you develop content to fill your beautiful zine pages.
---