Posted: February 28, 2012
Filed under:
Uncategorized
| Tags: byron coley, chip kidd, comics, comix, gary panter, la-zine-fest, shelf life, shelf life 2, small press, usc roski fine arts, zines
Leave a comment
One of the advantages of having an event like the L.A. Zine Fest is that you are offered an opportunity to meet like-minded people who tell you about new and interesting events.   One such event is Shelf Life 2 at USC, which is free and open to the public.
In a nutshell….
"SHELF LIFE BAZAAR:
SMART, fun, cool, STRANGE, beautiful, OUTRAGEOUS, idiosyncratic, rare, limited, low-run, HARD-TO-FIND, much-coveted, and bound-to-become important BOOKS, MAGAZINES, and objects from many of the finest INDEPENDENT PUBLISHERS, ARTISTS, and VENDORS around.
// Throughout the day
Harris Hall and Watt Hall Courtyards…

…An eclectic marketplace featuring publishers, artists, designers and their merchandise. This will be an opportunity for the event's participants to show (and sign!) their books, magazines, and journals, and it will provide a platform for an even more diverse group of artists, publishers, and vendors to participate. Interesting crowd, interesting vendors, and interesting conversations."
In order to ensure that there are some very interesting conversations, Shelf Life has assembled a killer list of guest speakers and workshops.  The workshops at this event range from a discussion with Slake Magazine on the importance of narrative (a hands-on element is implied!) to an opportunity to make a collage that will become part of a collaborative zine with Beautiful/Decay.  Plus, Chip Kidd in the flesh!  His book covers are incredible, and his novels are capable of lighting a fire under the butts of procrastinating artists of all media.  Check the website for details on all workshops.
We're very happy to learn that some of our LAZF presenters will be tabling at the event, like Amy Fortunato and Lee Noble of No Kings Record Cadre, Simon Sotelo, Champoy Hate, and JT Steiny, but we're always looking forward to meeting new, talented people (maybe future LAZF attendees?)
RSVP and get event updates on Facebook
---
Posted: February 10, 2012
Filed under:
Uncategorized
| Tags: alex chiu, champoy hate, comics, comix, daryl gussin, flockshop, home room, permanent records, punk, razorcake, zines
Leave a comment
What a week! We made buttons, we bought TONS of zines, we saw some great live music, and we had our picture taken with a giant zine.  We hope you found some great new places to hang out or a new favorite zine!
This Saturday's events promise to be a great way to end a week chockfull of great things to do and fun places to do them. This Saturday brings events from Alex Chiu, Champoy Hate, AND Daryl Gussin. We don't know about you, but we are dead set on going to all three. It can be done!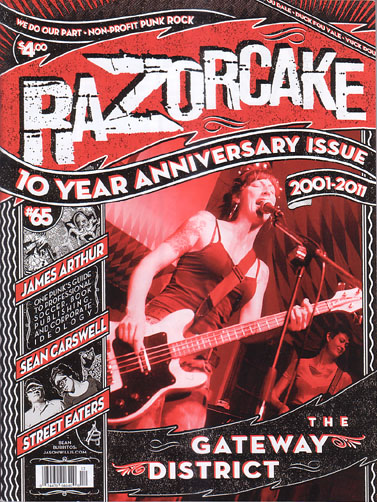 ---