Posted: February 10, 2012
Filed under:
Uncategorized
| Tags: alex chiu, champoy hate, comics, comix, daryl gussin, flockshop, home room, permanent records, punk, razorcake, zines
Leave a comment
What a week! We made buttons, we bought TONS of zines, we saw some great live music, and we had our picture taken with a giant zine.  We hope you found some great new places to hang out or a new favorite zine!
This Saturday's events promise to be a great way to end a week chockfull of great things to do and fun places to do them. This Saturday brings events from Alex Chiu, Champoy Hate, AND Daryl Gussin. We don't know about you, but we are dead set on going to all three. It can be done!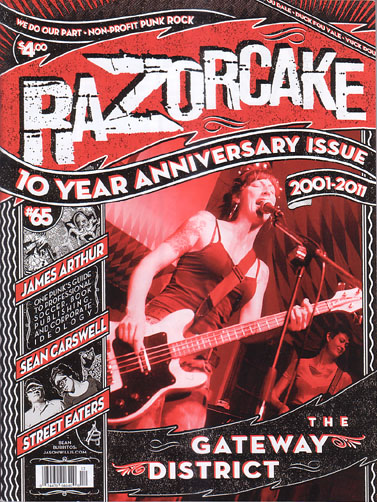 ---
Posted: February 8, 2012
Filed under:
Uncategorized
| Tags: alex chiu, flockshop, jesse tise, la-zine-fest, paper planes, zine, zine week
Leave a comment
Flock Shop is a Chinatown boutique that sells, among other things,  some excellent zines.  What taste!  Just take a look at their selection of zines, which features work by LAZF tablers Jesse Tise and Eyeball Burp.
Flock Shop is also hosting an art show by LAZF presenter and friend, Alex Chiu (half of Eyeball Burp) this coming Saturday. RSVP here!
Take a peak at what they've got in stock today:
Plant Food by Jesse Tise
The Gift (Limited Edition Mini Zine) & Roots to Fruits (Limited Edition Mini Zine) by APAK
(Here's a cool video of Roots to Fruits!)
Eyeball Burp Issue "5"
where do the empties go? by Keith McCracken
We Come in Peace by Jesse Tise
Archipelago by Seth Stewart
Space Spells by Jesse Tise
We're so excited for Saturday's opening! RSVP here so Alex will know to save you some ice cream and drinks.
---